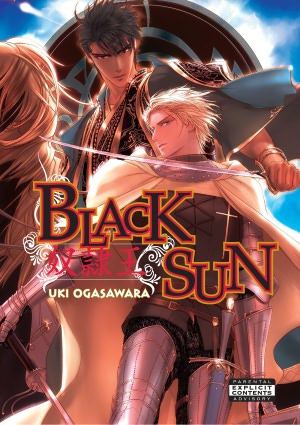 We are pleased to announce Uki Ogasawara, yaoi manga author and illustrator, as our Guest of Honor for YaoiCon 2012! Best known as the mangaka of Black Sun, Virtuoso di Amore, and Nightmare Fortress, Ogasawara-sensei lives in Kanagawa prefecture in Japan, where she also works as an illustrator for various other series under the penname Lightgraph II (ライトグラフII ).
This YaoiCon, Ogasawara-sensei looks forward to meeting fans at her very first American convention!
For those who would like to get to know her a little better, our Guest of Honor shares a few details about herself in the following interview by our staff:
Q:
What is your current/on-going work?
A:
It's called 「抱擁実験」 (Hōyō jikken), and it is currently being featured in Taiyoh Tosho's monthly magazine "ihr Hertz."
Q:
What is your favorite food?
A:
Nothing in particular; I like everything. I don't drink, though…
Q:
Favorite music? Genre? Artists?

A:
Mainly, I like original soundtracks from movies and games. As for genres, I like: classical, techno, R&B, Rock, world… I don't really have a favorite, but generally types of music you don't hear in Japan. Some artists I like are: Rihanna, Hans Zimmer, Nusrat Fateh Ali Khan, Susumu Hirasawa…
As you can see, no one or nothing particular: genres and musicians of all kinds!
Q:
What do you like to do on your day off?

A:
I like to go shopping, take care of my fish tank, play Monster Hunter (it's a game; they call it MonHun in Japan) or Diablo 3. I suppose I should read a little more instead of playing games…
Q:
What kind of books do you like to read?

A:
Umm… I don't have a favorite or particular genre/type I like to read, but recently I read a non-fiction called The Language of Life: DNA and the Revolution in Personalized Medicine by Francis Collins and Anpon: Son Masayoshi Den by Shinichi Sano. I enjoyed them very much. Both are very memorable books.
Q:
Manga-wise, what would you like to work on next?
A:
Well, all depends on my schedule… But, of course, something that enables me to write handsome bishounen!
Q:
Your most challenging work so far?
A:
Illustrating someone else's work/script is always difficult. Original writers and creators have their own thoughts and images in their head, as it should be. Thus, trying to come up with drawings to their expectations is always difficult and challenging.
Interested in hearing more from Uki Ogasawara-sensei? Look forward to seeing her at Yaoi-Con this year!